The best part of the Greensboro City Council meeting on Tuesday, August 19, came after the meeting had adjourned and four members of the City Council accepted Mayor Nancy Vaughan's Ice Bucket Challenge to raise money for amyotrophic lateral sclerosis (ALS), also known as Lou Gehrig's disease.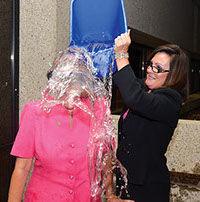 The four who accepted the challenge after the meeting were Councilmembers Zack Matheny, Sharon Hightower, Marikay Abuzuaiter and Jamal Fox.  Council member Tony Wilkins, who had already participated in the challenge, did the honors dousing Matheny and Abuzuaiter while Mayor Vaughan did the honors for Hightower and Fox.
The council meeting began at 5 p.m. with a closed session to discuss the remaining lawsuits against the city filed by former Police Chief David Wray, former Deputy Chief Randall Brady, retired Sgt. Tom Fox and Officer Scott Sanders.

A motion was made in closed session to offer a settlement of $50,000 to Wray and Brady, and that failed on a 4-to-5 vote with Council members Matheny, Wilkins, Mike Barber and Nancy Hoffmann voting in favor of making the settlement offer and Mayor Vaughan and Council members Fox, Abuzuaiter, Hightower and Yvonne Johnson voting against it.
At the council meeting on August 4, a motion to offer $25,000 to settle the lawsuits was made and also failed on a 4-to-5 vote.  Wilkins voted against that offer and Fox voted in favor of it.
So the way things stand now, five council members have voted in favor of making a settlement offer, but it seems the council can't reach an agreement on the amount.
During the regular City Council meeting not a single no vote was cast.  The resolution to close Lindsay Street was continued at the request of Mike Fox of the law firm Tuggle Duggins, representing Roy Carroll.  Carroll, the publisher of this paper, is requesting that 205 feet of Lindsay Street be closed to allow for a $50 million development along Eugene Street, which will include a hotel, about 300 upscale apartments, retail and office space.  Carroll owns both sides of the portion of Lindsay Street he is requested be closed.   The street closing is now scheduled to be heard at the Sept. 2 City Council meeting.
The council discussed a request by Kotis Holdings LLC to increase the reimbursement for water and sewer infrastructure improvements for a site at 200 Willowlake Road by $48,000 to $360,000.
The reimbursement is for water and sewer improvements to facilitate a projected $20 million development by Kotis.
When asked why the increase was needed, Jeff Nimmer, representing Kotis, explained that $17,000 was for inflation-related expenses, since the development had been delayed for a year, and the $30,000 was for annexation fees that the developer was unaware would be charged.
Interim City Attorney Tom Carruthers said that the annexation fees were not eligible for reimbursement and added, "payment of annexation fees is not part of this agenda item and it is not part of the resolution."
After some discussion, the council passed the resolution unanimously for the $17,000 in inflation-related expenses and $30,000 for increased site development costs.
Matheny noted that the city would have to provide water and sewer to this area once it was annexed.  He said, "For $30,000 you get a $20 million shopping center."
Johnson said, "I've worried Kotis for years to do something in east Greensboro.  This is great."
Nimmer said, "We think this is going to be a substantial node of retail for east Greensboro."
The council voted unanimously to designate the Cannon Court Apartments at 828 N. Elm St. as a historic landmark, making it eligible for tax credits.
The council once again discussed the hotel-motel tax, and how that money is distributed, before voting to use hotel-motel tax money to finance improvements to the Greensboro Coliseum Complex.
The City Council also unanimously approved a new public records policy for the City of Greensboro.  Roch Smith, who has been outspoken in his criticism of previous public records policies, spoke in favor of the new policy.  He said, "I couldn't be prouder of the improvements the city has made."  And he complimented the staff, including the new Public Records Administrator Sarah Healy and Communications Manager Donnie Turlington.
Smith offered several suggestions on how to make the policy better, but Vaughan suggested the council pass the current policy and make changes if necessary later.  She said, "I'm excited that we are going to pass this."  She added, "I think it is very important to note that a public records request is a request for a record, it is not a request for an opinion."  She said that many requests that came to the city were actually for opinions, and that is not the function of the communications division.
Those of us who request public records from the city have noted an enormous change in city policy, from trying to come up with a reason for not releasing public records to promptly providing the records as is required by state law.
The council, also at the request of Carruthers, strengthened the ordinance regarding overcrowding, making severe overcrowding a public nuisance.
The council had discussed this at a work session and was informed that one club owed more than $300,000 in fines for overcrowding and continued to operate.  The revision, according to Carruthers, will give the city the ability to go to court to have a club that ignores the occupancy regulations closed down.
This was Police Chief Ken Miller's last regular meeting as chief.  He retires on August 31 and has accepted a job as police chief of Greenville, South Carolina.
Miller spoke at the beginning of the meeting and said, "It has been absolutely the honor of my life to serve as police chief of Greensboro for four years."
Councilmembers thanked him for the job he has done and congratulated Interim Police Chief Anita Holder on her promotion to be the first female police chief of Greensboro.
City Manager Jim Westmoreland said that the city would conduct a nationwide search for a new police chief.  As interim chief, Holder will not be eligible to apply for that job.